Gifts From Heaven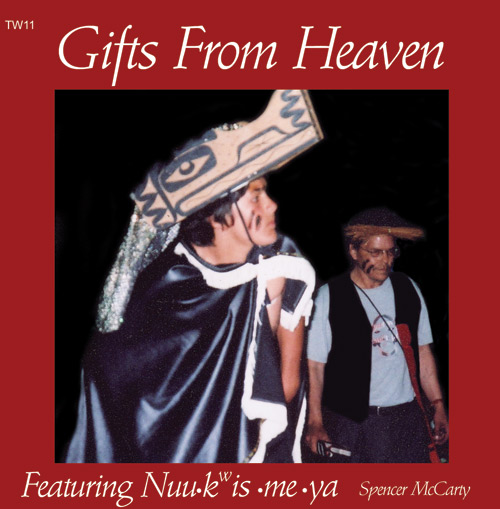 DIGITAL DOWNLOAD VERSION
$15.00
Gifts of Heaven is produced by Paul D. G. Eubanks 10 Wolves Productions. You the listener are now able to hear the most beautiful music the world has ever known.
For this has been a dream come true. The first traditional Pot latch I attended was at Neah Bay, Washington in the year of 1991. While I was listening to the Circle of Men
who were singing ancient, guarded Makah ceremonial songs, I told the late Ron Hilbert I have never heard music so beautiful as this. I will make it my goal for the world to hear this beauty.
Thanks to Spencer, his son and Jarvis they agreed to teach me and allow me to join them in this production. Now you may also enjoy the greatest spiritual music the world has ever known, Songs of a Makah Pot latch. My eternal thanks to the elders who have guided me and my fellow singers. May this bless you as it has me.
This album is all songs, composed by Spencer McCarty of the Makah Tribe at Neah Bay Washington State. It is a magnificent example of an ancient Potlatch. A time and type of tribal gathering that still exists in toady's world. At Neah Bay it is comely called an Indian party. It is completely devoid of drugs and alcohol. One of the greatest Pacific North West Coast Tribal ceremonies that exists today. These gatherings are usually held for an ancestral name to be placed on an individual, a wedding or even birthdays. This is always a joyous event.
The songs in this album are presented in the order of protocol that is accurate for a Makah family to put on a Potlatch. Starting with an actual paddle song to enter with. This first song is an invitation to come join the party. As Spencer said, "Your all invited." Then followed with an actual chant to call on the spirit of the wolves to come join. The third song is for a genuine Makah Wolf dance. This album will take you on a real experience to feel the power of the spiritual world of the Makah's. It is five years in the making and will take second place to no other album I have ever recorded. It was reviewed by several elders of the tribe and cleared for presentation to the world. It is the first album to be released featuring songs of a Makah Potlatch. I am ever so grateful to be allowed to participate in the monumental collection of songs. I am sure you will also be grateful to have a copy and share the experience with others. They are truly gifts from Heaven.
Paddle Song, Public Entrance Song

Chant, Calling In The Wolves

Wolf Dance, Territories, Boundaries, Cultural Rights

Ten Grandmothers, To remember our female ancestors

Hi ya, Statement of Status

Chant, Remembering Your Ancestral Teachings

7. and 8. A Pair of Songs. The Proper Songs To be Sung before giving gifts

The Song of The Wolves, Inspired from Real Wolves

Serpent Song, Lighting Owned by Thunder Bird

Ta bha, Social Song Passing Time Between events

Thank You, The Ancient language of the Makah Tribe of Neah Bay Washington